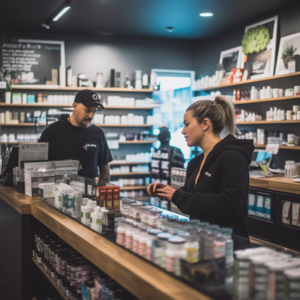 Welcome to Morganton, North Carolina! A city that's as rich in history as it is in natural beauty. But Morganton isn't just known for being the county seat of Burke County or its claim to fame as the oldest known European inland settlement in the United States. It's also a paradise for CBD enthusiasts! Yes, in this city, which was named for Brigadier General Daniel Morgan, a hero of the American Revolutionary War, you'll find some of the top CBD stores in the state. From CBD oil that's as refreshing as a hike in the Linville Gorge to Delta-9 that's as revolutionary as Morganton's history, you'll find it all here. So, come on down and explore the CBD side of Morganton, where history, nature, and wellness intersect.
Morganton Hemp (304 Burkemont Ave, Morganton NC 28655): Morganton Hemp is like a treasure trove for CBD enthusiasts. Nestled in the heart of Morganton, this shop offers a variety of THC products like CBD, Hemp, Delta 8, and Delta 9. Just as Morganton's rich history is filled with fascinating tales, Morganton Hemp's shelves are filled with intriguing products. Whether you're a seasoned CBD user or a curious newcomer, you'll find something to pique your interest here.
Professor Herb's Herbal Solutions, LLC (805 Jamestown Rd, Morganton NC 28655): Step into Professor Herb's Herbal Solutions and you'll feel like you've entered a sanctuary of wellness. This shop offers a wide variety of CBD products, each carefully curated for quality and efficacy. It's a place where the beauty of the Blue Ridge Mountains meets the science of CBD. Whether you're seeking relaxation, relief, or rejuvenation, Professor Herb's has a solution for you.
Morganton Tobacco & Vape (830 Burkemont Ave, Morganton, NC 28655): Morganton Tobacco & Vape is more than just a CBD shop – it's a hub for those who appreciate the finer things in life. Offering a wide variety of CBD, tobacco, and vape products, this shop is as diverse and vibrant as the Morganton Festival. Whether you're a connoisseur of CBD, a vaping veteran, or a tobacco aficionado, Morganton Tobacco & Vape has something to delight your senses.
Is CBD Legal in Morganton, NC?
Now, you might be pondering, "Is CBD legal in North Carolina?" Well, let me clear the air. The answer is as bright as a Morganton sunrise – yes! North Carolina has given the thumbs up to the sale and consumption of hemp-derived CBD products, including those mouth-watering CBD gummies and edibles. However, when it comes to Delta-8 and Delta-10, the legal landscape is a bit more complex than Morganton's historic timeline, so it's always wise to stay updated with the latest state regulations. But rest assured, the CBD flower you find in Morganton is as legal as the Catawba River that flows through it. So, whether you're a seasoned CBD user or just starting your CBD journey, Morganton, NC is the perfect place to sit back, relax, and enjoy the CBD ride.
Related posts
Subscribe
* You will receive the latest information, deals, and updates in the world of CBD!