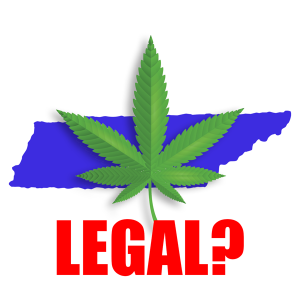 The CBD industry has expanded rapidly since the 2018 Farm Bill legalized hemp-derived CBD products on a federal level. Tennessee has moved to embrace this change, leading many residents to wonder – is CBD oil actually legal in Tennessee now?
While CBD laws have evolved in recent years, there is still some confusion around what is permitted in the state. This guide will clarify Tennessee's current CBD regulations so you can use CBD safely and legally.
Is CBD Legal in Tennessee?
Yes, CBD is legal in Tennessee, but only under certain conditions. CBD products derived from industrial hemp containing no more than 0.3% THC (delta-9 tetrahydrocannabinol) are now legal to buy, possess and use in Tennessee.
This applies to CBD oils, edibles, creams, and other products infused with hemp-derived CBD. However, CBD oil derived from marijuana is still considered illegal at the state level outside of Tennessee's extremely limited medical CBD program.
Tennessee has moved forward with regulating hemp-derived CBD while maintaining a strict anti-marijuana stance. Understanding the difference between CBD and marijuana laws is crucial to avoiding legal risks.
What Does Tennessee's CBD Law Say?
In 2014, Tennessee adopted its first industrial hemp legislation with the passage of the Tennessee Agricultural Act [1]. This allowed hemp to be legally grown for research purposes when permitted by state law.
Tennessee built upon this initial law by fully legalizing the farming of industrial hemp through the Tennessee Hemp Farming Act of 2015 [2]. This set up a framework for regulating hemp production while removing barriers to widespread hemp agriculture in the state.
When the 2018 Farm Bill federally legalized hemp and its derivatives like CBD, Tennessee embraced the change. As long as CBD is sourced from legally grown industrial hemp plants containing 0.3% THC or less, it can now be freely sold and purchased in Tennessee.
However, Tennessee's laws still prohibit all forms of recreational and medical marijuana. CBD products derived from marijuana plants remain illegal outside of an extremely limited program allowing the medical use of oil containing less than 0.9% THC.
Where Can You Buy CBD in Tennessee?
Thanks to new hemp regulations, Tennesseans can buy hemp-derived CBD products at a variety of retailers across the state. Some places where CBD is available include:
Online and brick-and-mortar CBD stores
Health food stores and organic markets
Vape and smoke shops
Some grocery stores and pharmacies
Gas stations and convenience stores
You'll find CBD oils, edibles, topicals, vapes and other products infused with hemp-derived CBD widely available. It's easy to find CBD for sale in Tennessee's major cities as well as more rural areas.
Double check that any CBD products you buy are sourced from legal industrial hemp and contain no more than 0.3% THC. Reputable brands will provide access to third-party lab test results to verify cannabinoid content.
Does CBD Oil Require a Prescription in Tennessee?
No prescription is required to purchase hemp-derived CBD oil and other CBD products in Tennessee. They can be bought over-the-counter without any need for a medical marijuana card.
This applies to CBD oils, edibles, creams and other products made from legally grown industrial hemp containing less than 0.3% THC. Only high-THC CBD oils prescribed under Tennessee's medical marijuana program require a doctor's approval.
Adults over age 18 can freely buy CBD in Tennessee for personal use without a prescription from a doctor. While the state has imposed some new purchasing age restrictions, CBD remains readily accessible for most Tennessee residents.
Are There Any Possession Restrictions?
Tennessee has not set any possession limits on legal hemp-derived CBD products. You can buy and possess as much CBD oil or other CBD items as you want as long as they meet the legal definition of industrial hemp based on THC concentration.
However, possession of marijuana-derived CBD products containing over 0.3% THC may still face prosecution unless approved for medical use under state law. You also cannot possess recreational marijuana in any form.
Can You Travel to Tennessee with CBD?
You can legally travel within Tennessee with hemp-derived CBD products that meet federal and state guidelines. There are no intrastate restrictions on transporting legal CBD oils, edibles, topicals and other products made from industrial hemp.
However, potential complications can arise when crossing state borders due to Tennessee's strict anti-marijuana stance. Follow these tips for staying compliant with laws when traveling with CBD:
Store CBD in your checked luggage when flying to avoid airport confusion.
Keep copies of third-party lab reports confirming the THC content.
Follow TSA guidelines permitting medical liquids and gels.
Avoid traveling internationally with CBD due to strict regulations.
Research laws in states outside Tennessee before crossing borders with CBD.
As long as you take proper precautions, CBD can be transported legally within Tennessee's borders. But interstate travel requires extra care when carrying any cannabis-based products.
Is CBD Legal for Recreational Use?
Yes, hemp-derived CBD products with less than 0.3% THC are legal for recreational use by adults over 21 years old in Tennessee. You do not need a medical marijuana license to legally purchase and use CBD recreationally.
This recreational access has helped CBD become a popular wellness supplement and natural remedy among Tennessee residents looking for its potential health benefits without the high of marijuana.
However, marijuana-derived CBD products remain illegal for recreational purposes unless approved under Tennessee's limited medical CBD program. All other recreational marijuana use is strictly prohibited.
Are There Any Medical CBD Laws?
Tennessee has an extremely restrictive low-THC medical CBD law known as the Medical Cannabis Only Act [3]. It was passed in 2014 after years of rejecting medical marijuana legislation.
Under the program, only patients with intractable seizure disorders can access CBD oil containing no more than 0.9% THC and cannabidiol content over 15% [4]. The program has faced criticism for being too limited compared to laws in other states [5].
Outside of this narrow program, the use of marijuana-derived CBD for medical purposes remains prohibited. Advocates continue to push for expanding medical access, but change has been slow.
Can CBD Be Added to Foods and Drinks?
While the 2018 Farm Bill legalized industrial hemp and CBD on a federal level, the FDA still prohibits adding CBD to any food, beverage or dietary supplement products. Tennessee adheres to the FDA's stance on CBD as a food additive.
So while Tennessee grocery stores and restaurants can sell bottled CBD oils and other premade CBD products, they cannot legally add CBD to their menus or offerings. The FDA must provide further regulatory guidance before this will change.
Hopefully Tennessee will follow the lead of states legalizing CBD in foods and beverages once the FDA lifts restrictions. But for now, CBD cannot be sold as an edible or ingredient in foods in Tennessee.
Is CBD Legal to Purchase Online in Tennessee?
It is legal for Tennesseans to order hemp-derived CBD products online as long as the retailer complies with state and federal requirements. Tennessee residents over 21 can purchase CBD online from state-licensed retailers as well as reputable national brands that ship to the state.
However, potential legal risks still exist when ordering CBD online. Be sure to vet any online CBD retailer thoroughly before purchasing:
Review third-party lab test results for every product verifying THC levels and cannabinoid content.
Check customer reviews and feedback about the company's reliability and customer service.
Avoid buying from new websites with no lab testing or credentials displayed.
Ordering lab-tested CBD products online from reputable retailers can provide safe, convenient access for Tennessee consumers. Just take precautions when researching any unfamiliar brands.
Are There Restrictions on Selling CBD in Tennessee?
Those looking to sell retail CBD in Tennessee must adhere to strict licensing requirements enforced by the Tennessee Department of Agriculture. The state closely oversees the production and sale of industrial hemp and hemp-derived products.
Key regulations for CBD retailers include [6]:
Must obtain an annual CBD Retailer Permit from the TDA.
Random testing to confirm products contain 0.3% THC or less.
Must verify customer age and maintain sales records.
CBD products cannot be marketed with unproven medical claims.
Failure to follow these and other CBD sales regulations can lead to significant civil penalties or criminal prosecution. Tennessee aims to tightly control its expanding CBD industry.
Is it Legal to Grow Hemp and Process CBD in Tennessee?
Hemp farming and CBD manufacturing are permitted in Tennessee but involve rigorous licensing, testing and security protocols. The Tennessee Department of Agriculture's Hemp Program regulates hemp cultivation and processing [7].
Those wishing to grow, handle or process industrial hemp must submit applications and pass background checks annually. Crops and products must contain no more than 0.3% THC. Strict record keeping and inspection requirements also apply.
By overseeing hemp farming and CBD production, Tennessee hopes to build a safe, compliant CBD and industrial hemp industry meeting federal guidelines. The state has embraced hemp agriculture as a new economic driver.
What Are Tennessee's New CBD Regulations?
In 2022, Tennessee lawmakers introduced new regulations on the manufacturing, marketing and sale of hemp-derived CBD products like delta-8 THC [8]. Key provisions of the new rules include:
Minimum age to purchase CBD raised from 18 to 21 years old.
Required lab testing for heavy metals and potency.
Packaging must be child-resistant.
Restricts certain advertising claims and marketing appeals to minors [9].
Allows county governments to require local CBD retail permits.
These regulations aim to increase oversight as the CBD market rapidly expands. However, some critics argue the rules are overly restrictive on consumer access. The law takes effect on July 1, 2023 [10].
Will Recreational Marijuana Be Legalized Soon in Tennessee?
Currently, recreational marijuana remains illegal in Tennessee. Simple possession is punishable by up to one year in jail and a fine of $2500 for a half ounce or less [11]. Harsher penalties apply for larger amounts.
While public support for adult-use legalization has grown, Tennessee's political climate remains heavily opposed. Legislation to legalize cannabis for adult use has been proposed but failed to gain traction.
Gov. Bill Lee has stated he would sign legislation allowing for medical marijuana access if it reached his desk, but does not support recreational use [12]. Neighboring state Virginia recently moved to legalize cannabis, adding pressure for reform.
However, given strong Republican opposition, Tennessee is unlikely to legalize recreational marijuana anytime in the near future without a significant leftward political shift. CBD will likely remain the only legal cannabis option for the foreseeable future.
Is CBD Legal in Tennessee? The Key Takeaways
To summarize key points on the legal status of CBD in Tennessee:
Hemp-derived CBD containing less than 0.3% THC is legal for adult use and widely available.
Marijuana-derived CBD is restricted to an extremely limited medical program.
New regulations have raised the purchase age to 21 and imposed stricter controls on the CBD industry.
While public support is rising, recreational marijuana remains illegal.
Travel within Tennessee with compliant CBD products is permitted, but interstate transportation requires precautions.
Online ordering from properly licensed CBD brands can offer safe access.
Growing hemp and producing CBD products involves licensing and oversight from the TDA.
While Tennessee still has some of the strictest cannabis policies in the nation, the legalization of hemp-derived CBD has been a big step forward. As the industry matures, Tennessee consumers can enjoy CBD products safely and confidently. Just be sure to know the laws and only buy from reputable sources.
References
[1] https://www.wbir.com/article/news/politics/tennessee-lawmakers-pass-bill-to-add-regulations-to-cannabis-products-like-delta-8/51-184fb04c-1a6b-4b71-8768-e7340eb2bf80
[2] https://mjbizdaily.com/tennessee-sets-new-rules-for-hemp-derived-cannabinoids/
[3] https://zebracbd.com/blogs/cbd-education/is-cbd-legal-in-tennessee-tn-laws-2023
[4] https://www.tn.gov/tbi/crime-issues/crime-issues/hemp—marijuana.html
[5] https://www.ericjburch.com/blog/2021/1/is-cbd-oil-legal-in-tennessee.html
[6] https://www.mpp.org/states/tennessee/tennessee-cbd-law/
[7] https://bcbstnews.com/bluehealthsolutions/a-guide-to-cbd-oil-in-tennessee/
[8] https://vidaoptimacbd.com/blogs/is-cbd-legal-in-my-state/is-cbd-legal-in-tennessee
[9] https://royalcbd.com/tennessee/
[10] https://www.adamsandreese.com/last-call/what-you-need-to-know-about-the-new-tennessee-cbd-law
Related posts
Subscribe
* You will receive the latest information, deals, and updates in the world of CBD!