Ever felt like a goat might have the secret to soothing your sore muscles? Well, you wouldn't be baaaarking up the wrong tree with Mission Farms' Relieve CBD Goat Milk Cream! This luxurious potion not only eases your everyday aches and pains but also throws in the moisturizing magic of goat milk and the antioxidant prowess of CBD. Whether you're a gym enthusiast or just a connoisseur of comfort, join me as we take a lively leap into the rich world of this high-quality cream. Trust me; it's an investment your well-being will thank you for. So without further ado, let's dive hoof-first into the details of the Relieve CBD Goat Milk Cream from Mission Farms CBD!
Mission Farms Relieve CBD Goat Milk Cream
Features and Benefits
The Relieve CBD Goat Milk Cream by Mission Farms CBD is a remarkable product that offers a multitude of features and benefits. Let's dive into the details to understand how this cream works its magic.
Superior Absorption
One of the standout features of this cream is its superior absorption. The natural MCTs found in goat milk facilitate the deep penetration of CBD into your joints and muscles, providing targeted relief. This ensures that the cream goes to work right where it's needed, offering quick and effective results.
Nourishment and Moisturization
Not only does the Relieve CBD Goat Milk Cream provide relief, but it also provides nourishment and moisturization for your skin. Goat milk, enriched with vitamins and fatty acids, delivers essential nutrients to your skin, leaving it nourished and hydrated. The inclusion of Alpha-Hydroxy Acid also stimulates collagen and elastin production, giving your skin a youthful glow.
Powerful and Effective Formula
With a potent 900mg of CBD, this cream is powerful and effective in easing discomfort and inflammation. Whether you're an athlete pushing your body to the limit or experience everyday soreness, this cream is suitable for your needs. Its carefully curated blend of Full Spectrum CBD, healing goat milk, and organic essential oils ensures maximum efficacy.
Ways to Use It
The Relieve CBD Goat Milk Cream offers a range of versatile uses that make it a must-have in your wellness routine. Here are some examples:
Massaging the cream onto sore muscles after an intense workout session for quick recovery.
Applying it to aching joints to reduce inflammation and alleviate discomfort.
Using it on specific areas prone to tension, such as the neck and shoulders, for immediate relief.
Post-Workout Recovery
After an intense workout, I often find my muscles feeling exhausted and sore. The Relieve CBD Goat Milk Cream has become an essential part of my post-workout routine. I apply it generously to any sore muscles and gently massage it in. The cream absorbs quickly, providing instant relief and helping my muscles recover faster.
Joint Relief
I've also found the cream to be incredibly effective in providing relief to my achy joints. As someone who experiences occasional joint discomfort, I simply apply the cream directly to the affected area. The combination of the CBD, goat milk, and essential oils work harmoniously to reduce inflammation and soothe the joint pain.
Tension Relief
For those moments of tension and stress, this cream offers an oasis of relief. I like to apply it to my neck and shoulders, where I carry most of my stress. The soothing properties of the cream, combined with the calming scent of essential oils, relax my muscles and provide an overall sense of calmness.
Product Specifications
To give you a clearer understanding of the Relieve CBD Goat Milk Cream, here are the product specifications:
| Specification | Details |
| --- | --- |
| CBD Content | 900mg |
| Ingredients | Full Spectrum CBD, healing goat milk, organic essential oils (peppermint, eucalyptus) |
| Size | 3.4 fl oz (100ml) |
| Application | Topical cream |
| THC Content | Less than 0.3% |
| Recommended Use | Massage onto sore muscles or joints. Repeat as needed. |
Who Is It For
This cream is suitable for a wide range of individuals who seek relief, nourishment, and relaxation. Here are a few examples of who can benefit from using the Relieve CBD Goat Milk Cream:
Athletes looking to enhance their recovery and alleviate muscle soreness.
Individuals experiencing occasional joint discomfort or inflammation.
People seeking a natural solution for skin nourishment and moisturization.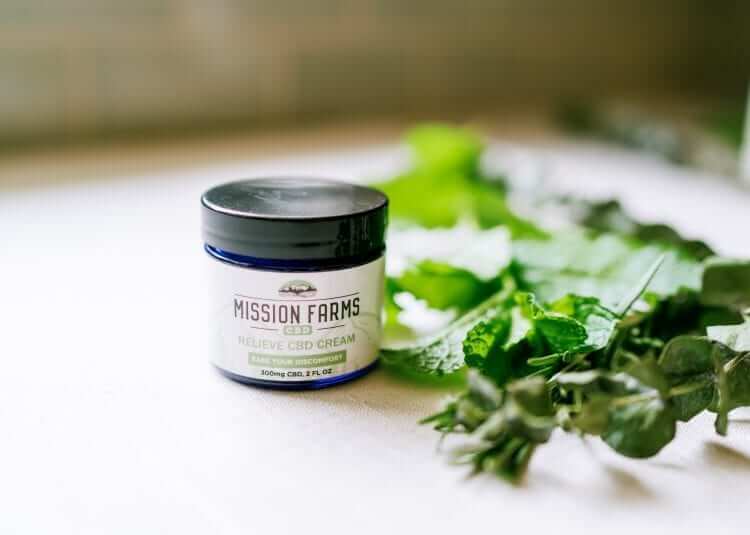 Pros and Cons
Pros:
High-quality and carefully sourced ingredients.
Effective relief from discomfort and inflammation.
Superior absorption due to the presence of natural MCTs.
Nourishes and moisturizes the skin.
Contains powerful antioxidants for skin protection and rejuvenation.
Cons:
Availability may be limited in certain regions.
The cream may not be suitable for individuals with an allergy to any of the ingredients.
FAQ's
Is this cream tested on animals? No, Mission Farms CBD is dedicated to cruelty-free practices. This product is not tested on animals.

Can I use this cream on broken or irritated skin? It is recommended to avoid using the cream on broken or irritated skin. If you have any specific concerns, it is best to consult with a healthcare professional.

Does this cream have a strong scent? The cream has a subtle and pleasant scent due to the presence of essential oils. It is not overpowering and provides a soothing aromatic experience.

Will this cream make me feel high? The THC content in this cream is less than 0.3%, which is not enough to induce any psychoactive effects. You can use this cream without worrying about feeling high.
What Customers Are Saying
Customers who have used the Relieve CBD Goat Milk Cream have expressed their satisfaction with the product. Many have praised its fast-acting relief and the luxury it provides to their skincare routine. The cream has been lauded for its effectiveness in reducing muscle soreness, easing joint discomfort, and improving overall skin health.
Overall Value
Investing in the Relieve CBD Goat Milk Cream from Mission Farms CBD is truly investing in your well-being. The superior absorption, multiple benefits, and carefully selected ingredients make it a valuable addition to any wellness routine. Whether you need relief from muscle soreness, joint discomfort, or simply want to nourish your skin, this cream offers exceptional value.
Tips and Tricks For Best Results
For optimum absorption, apply the cream to clean, dry skin.
Gently massage the cream into the desired area until fully absorbed.
Use the cream consistently, especially after workouts or when experiencing discomfort, for best results.
Store the cream in a cool, dry place away from direct sunlight.
Conclusion
The Relieve CBD Goat Milk Cream by Mission Farms CBD is a luxurious and effective solution for easing discomfort, inflammation, and nourishing your skin. Its powerful formula, combined with the superior absorption of natural MCTs, offers targeted relief and long-lasting benefits. From athletes to individuals seeking natural skincare solutions, this cream provides the perfect combination of relief and skincare. Invest in your well-being with the Relieve CBD Goat Milk Cream and experience the transformative power of nature's ingredients.
Product Summary
The Relieve CBD Goat Milk Cream by Mission Farms CBD is a luxurious solution for easing discomfort and inflammation while nourishing your skin. With 900mg of CBD, it delivers powerful relief and long-lasting benefits. Made with only the finest ingredients, including healing goat milk and organic essential oils, this cream is a high-quality product you can trust.
Final Recommendation
I highly recommend the Mission Farms Relieve CBD Goat Milk Cream to anyone seeking effective relief and nourishment. Its superior absorption, multiple benefits, and carefully curated formula make it an exceptional product. Incorporate this cream into your self-care routine, and invest in a natural solution that promotes well-being from the inside out.
Related posts
Subscribe
* You will receive the latest information, deals, and updates in the world of CBD!