Well, let me tell ya somethin', brother! If you thought the Peach Dynamo was a smackdown, brace yourself for the Watermelon Crush. I've just laid my hands on the Hulkamania Body Slam THC Gummies in Watermelon Crush flavor, and let me tell you, it's like a flying elbow drop to your senses. So, are you ready to tag in and let these gummies take you to Suplex City? Because, dude, you're in for a wild ride!
Hulkamania Body Slam THC Gummies - Watermelon Crush
Why Choose This Product
If you're looking for a tag team partner that'll make your taste buds do the ultimate body slam, then look no further. These gummies are a high-voltage combination of HHC and Delta 8, designed to give you both a jolt of cerebral energy and full-body relaxation. It's like getting the best of both worlds, without having to step into the ring.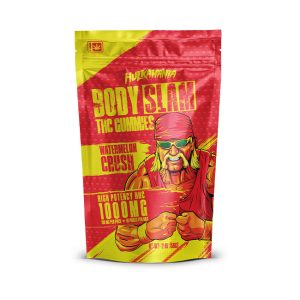 Features and Benefits
Product Quality
Crafted with a specialized powerhouse combo of potent indica and energizing sativa, these gummies are the real deal. They undergo rigorous third-party lab testing, ensuring that you're getting a product that's as reliable as Hulk Hogan's mustache.
What It's Used For
Whether you're winding down after a grueling day or looking to add some excitement to your routine, these gummies are your go-to. They're formulated for both high-energy cognition and peak body relaxation, making them a versatile choice for any occasion.
Product Specifications
| Specification | Details |
| --- | --- |
| Serving Size | 1pcs (4.5g) |
| HHC per gummy | Approx. 90mg |
| Delta-9 per gummy | Approx. 10mg |
| Calories | 16 |
| Total Fat | 0g |
| Sodium | 2mg |
| Total Carbohydrate | 4g |
| Total Sugars | 2g |
Who This Product Is For
If you're 21 or older and looking for a gummy that can do it all, then step right up. But remember, this isn't CBD; it's a hemp-derived product with psychoactive effects. Consult your healthcare professional before you decide to go one-on-one with these gummies.
Pros and Cons
Pros
High-potency HHC and Delta 8
Versatile effects for different needs
Delicious watermelon flavor
Rigorous third-party lab testing
Cons
Not suitable for those under 21
May show up on drug tests
Not evaluated by the FDA
FAQs
Q: Is this CBD?
A: No, brother, this is a hemp-derived product with HHC and Delta 9 THC.
Q: Can I drive after taking these gummies?
A: Don't even think about it, dude! These gummies may cause drowsiness, so keep away from the driver's seat.
Customer Reviews
There are no customer reviews yet, so be the first to lay the smackdown in the review section!
Overall Value
For $14.99, you're getting a tag team of flavor and effects that'll make you feel like a champion. It's like having the Hulkster in your corner, but in gummy form.
Tips and Tricks for Best Results
Start with a half gummy if you're new to THC products
Store in a cool, dry place
Consult a healthcare professional before use
Product Summary
The Hulkamania Body Slam THC Gummies in Watermelon Crush flavor are a force to be reckoned with. With their high-potency and versatile effects, they're the ultimate tag team partner for anyone looking to elevate their game.
Final Thoughts and Recommendation
So, there you have it, folks. If you're looking to body-slam your way to relaxation and mental clarity, then these Hulkamania Body Slam THC Gummies are your ticket to the main event. So, whatcha gonna do, brother, when Watermelon Crush and 1000mg of relaxation run wild on you?
Related posts
Subscribe
* You will receive the latest information, deals, and updates in the world of CBD!