Ah, the life of a dog. Chasing balls, barking at mailmen, and now, enjoying the soothing embrace of CBD. As I tear open the bag of R&R's Hemp Extract Dog Chews, I'm greeted with a whiff of chicken flavor that makes even my human taste buds curious. But these aren't for me; they're for my four-legged friend who's eagerly awaiting a taste test. Let's see if these chews are a bark or a bite.
Why Choose This Product
Why should Fido miss out on the CBD revolution? R&R's Hemp Extract Dog Chews are designed to give your pup a natural way to relieve various issues like hip and joint pain, inflammation, and anxiety. It's like a spa day, but in chewable form. And with chicken flavor, it's a treat that's sure to have tails wagging.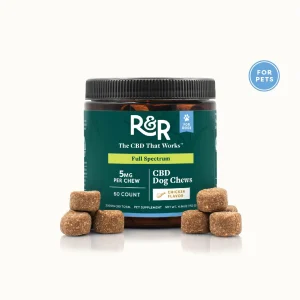 Features and Benefits
Product Quality
These chews are a blend of premium ingredients like flaxseed, chicken liver, sweet potato, and more. Each chew delivers 5mg of Full-Spectrum CBD, providing a complete entourage effect that includes natural terpenes, flavonoids, and antioxidants. It's a gourmet meal in a chew.
What It's Used For
These chews are not just a tasty treat; they're a remedy for common canine woes. Whether it's calming an anxious pup or easing joint pain, these chews are designed to bring comfort and joy to your furry friend's life.
Product Specifications
| Specification | Detail |
| --- | --- |
| Size | 60 Count |
| Potency | 5mg |
| Ingredients | Natural Chicken Flavor, Pea Flour, Tapioca Flour, Palm Fruit Oil, Organic Hemp Powder, Chicken Liver, Flaxseed, Sweet Potato, Coconut Flour, Tomato, Carrot, Sunflower Lecithin, Coconut Glycerin, Powdered Cellulose (coating only), Sorbic Acid, Rosemary Extract, Mixed Tocopherols |
| Price | $45.00 USD for 60 chews |
| Usage | Serve 1-2 times daily, based on weight |
Who This Product Is For
This product is for the pampered pooches, the canine connoisseurs, and the dogs who deserve a little extra TLC. Whether it's a sprightly puppy or a wise old hound, these chews are designed to bring joy and comfort.
Pros and Cons
Pros
Delicious chicken flavor
Made with premium, natural ingredients
Suitable for daily use
Full-Spectrum CBD benefits
Cons
May contain trace amounts (less than 0.3%) of THC
Not suitable for dogs with specific dietary restrictions
FAQs
Can I give these chews to my cat?
These chews are specifically formulated for dogs, so it's best to consult with your veterinarian for feline-friendly options.
How long does it take to see effects?
It may take at least 5 days of consistent use to notice effects.
Customer Reviews
"My dog loves these chews! They've helped with his anxiety." – Happy Dog Owner
"These chews are a game-changer for my senior pup's joint pain." – Grateful Pet Parent
Overall Value
R&R's Hemp Extract Dog Chews offer a unique blend of taste and therapeutic benefits. With quality ingredients and thoughtful formulation, they're a valuable addition to your pet's wellness routine.
Tips and Tricks for Best Results
Start with the recommended serving size based on weight
Observe your pet for any changes and adjust the serving size if needed
Consult with your veterinarian if you have concerns
Product Summary
R&R's Hemp Extract Dog Chews are a delightful treat for your furry friend. With their chicken flavor and CBD benefits, they're a chew that promises to please both pets and pet parents.
Final Thoughts and Recommendation
As I watch my furry friend munch on R&R's Hemp Extract Dog Chews, I can't help but feel a sense of contentment. These chews are more than just a treat; they're a gesture of love, a nod to wellness, a high-five to happiness. If you're looking to pamper your pup with something special, give these chews a try. You might just find yourself with a happier, healthier, tail-wagging companion. Now, if you'll excuse me, I have a game of fetch to attend to. 🐶🎾
Related posts
Subscribe
* You will receive the latest information, deals, and updates in the world of CBD!