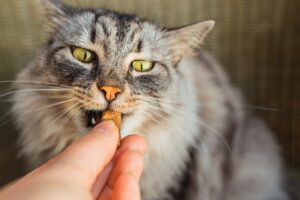 Has your cat turned their nose up at CBD oil? Refused their new CBD treats? Administering CBD to finicky felines can be challenging.
Cats are infamous for their selective palates and avoidance of anything unfamiliar. Trying to give your cat CBD when they resist can feel frustrating.
Don't worry – with the right techniques, you can succeed in getting your cat to take CBD. Read on for 6 tricks and tips to make dosing your feline easier.
1. Disguise the CBD Oil
Cats have a strong sense of smell. The aroma of hemp-derived CBD oil may be unappealing or unfamiliar. This can cause them to recoil when you try administering it.
Try masking the CBD oil scent by mixing it thoroughly into a food your cat loves, like:
Canned tuna or salmon
Meat baby food or broth
Cat yogurt or wet food
Pâté style cat food
A small amount of milk, fish, or beef broth
Stir the oil in thoroughly so your cat can't detect it. The familiar flavors and smells will cover up the CBD aroma.
2. Make CBD Oil Easier to Administer
Instead of trying to squirt CBD oil directly into your struggling cat's mouth, simplify administration:
Put drops onto a small spoon first, then let your cat lick it off.
Mix oil into a teaspoon amount of wet food.
Rub it on your cat's gums and inner cheek.
Add it to a treat pocket or pill that you can pop right in your cat's mouth.
Use a dropper instead of a syringe so less poking is involved.
These methods avoid chasing your cat around with an eyedropper! Reduce the hassle with easier techniques.
3. Reward with a Treat Chaser
Once you've managed to administer the CBD oil, provide a yummy treat chaser immediately after.
Use a bonus treat your cat loves like Thrive salmon treats, Greenies, or freeze-dried chicken. Give enthusiastic praise too!
This positive reinforcement will help your cat associate taking CBD with getting something delicious afterward. Over time, they may become more receptive to their CBD doses.
4. Buy CBD Cat Treats
Skip the oil struggles completely by using CBD-infused cat treats instead! These offer precise pre-measured doses in a crunchy, meaty or fishy form cats love.
Some popular CBD cat treat brands include:
Lazarus Naturals Cat Treats with salmon and turmeric
Green Roads Cat CBD Treats with chicken
HolistaPet CBD Cat Treats with catnip and salmon oil
Pet Hemp Company CBD Cat Treats with catnip
Let your cat think they're just getting a special snack. It beats battling to get them to swallow CBD oil!
5. Make CBD Powder Mix-Ins
Some companies offer water-soluble CBD powder that easily mixes into your cat's wet food. It will blend in seamlessly with just a quick stir.
This is easier than oil since it integrates with any wet cat food. Brands like Pet Releaf or Sue's Hemp offer dissolvable CBD powders your cat won't detect.
6. Use CBD Pet Supplements
Look for supplements designed just for picky cats that contain CBD. For example:
Spark Pâté Style Cat Food contains salmon, CBD, and natural calming aids.
Stewart Pro-Treats Calming Formula has CBD plus chamomile and L-theanine.
Walkee Paws Calming Drops – Just add to food or water.
Your cat will happily eat supplements mixed into their regular meals. It takes the hassle out of giving plain CBD.
Don't Give Up!
Getting a stubborn or finicky feline to take CBD can try any cat parent's patience. But with the right tools and techniques, you can succeed.
Test different methods until you find what works for your individual cat. Consistency and positive reinforcement will help in the long run.
Be patient, creative and don't get frustrated. In time, your clever kitty will be taking their CBD doses like a champ! Ask your veterinarian for more guidance if needed.
Your efforts will be worthwhile when your cat starts reaping all the benefits CBD has to offer them.
Related posts
Subscribe
* You will receive the latest information, deals, and updates in the world of CBD!