Opening the bottle of R&R Full Spectrum CBD Tincture is like opening a door to the pure essence of hemp. There's no artificial flavoring or added sweetness. This is CBD in its raw and unfiltered form, ready to meet you without any pretenses. It's a bold and authentic experience that's not for the faint of heart.
R&R Full Spectrum CBD Tincture
About R&R
R&R is not just a brand; it's a philosophy that revolves around quality and transparency. Their meticulous lab testing ensures that every drop of CBD oil meets the highest standards of purity and potency. They don't just claim quality; they prove it by providing detailed lab results for every product. This commitment to transparency sets them apart in the crowded CBD market. You can explore their lab testing here, learn about their hemp here, and find answers to common questions here.
Why Choose This Product
The R&R Full Spectrum CBD Tincture is a versatile product that caters to a wide range of needs. Whether you're seeking relief from chronic pain, looking to reduce stress, or aiming to improve sleep quality, this tincture offers different potencies to match your specific requirements. It's like having a personalized wellness solution in a bottle.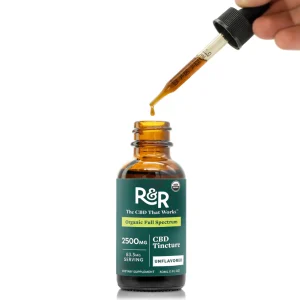 Features and Benefits
Product Quality
Made with organic full-spectrum hemp extract, this tincture is a symphony of cannabinoids, terpenes, flavonoids, and antioxidants. It's not just about CBD; it's about the entire spectrum of hemp's beneficial compounds working together to enhance your well-being.
What It's Used For
From easing pain to promoting better sleep, this tincture is a versatile solution that can be tailored to your specific needs. It's like having a wellness toolkit in liquid form, ready to address various challenges with precision.
Product Specifications
| Specification | Detail |
| --- | --- |
| Size | 1 FL Oz |
| Potency | 1000mg, 2500mg, 5000mg |
| Ingredients | Organic Full-Spectrum Hemp Extract, Organic MCT Oil From Coconut |
| Price | $55.00 USD for 1000mg, $85.00 USD for 2500mg, $130.00 USD for 5000mg |
| Usage | 1-2 servings (1-2 mL) under tongue, hold 60 seconds, then swallow |
Who This Product Is For
The R&R Full Spectrum CBD Tincture is for those who appreciate the natural taste of hemp and seek a product that can be customized to their wellness needs.
Pros and Cons
Pros
Variety of potencies for personalized use
Full-spectrum benefits for enhanced efficacy
60-Day Money-Back Guarantee for peace of mind
Suitable for those who prefer unflavored CBD
Cons
Strong hemp flavor may not be suitable for everyone
May require experimentation to find the right potency
FAQs
What if I'm taste-sensitive?
If you're taste-sensitive, R&R offers alternatives like flavored tinctures or CBD Softgels. They understand that taste is subjective, and they've crafted solutions to match different preferences.
Customer Reviews
"This tincture has changed my life. The pain relief is incredible." – John D.
"I love the purity of this product. It's become an essential part of my wellness routine." – Samantha R.
"The unflavored option is perfect for me. It's CBD without any distractions." – Michael T.
Overall Value
The R&R Full Spectrum CBD Tincture is more than just a product; it's a commitment to quality and authenticity. It offers a pure and potent CBD experience that can be tailored to your needs. It's a versatile and valuable addition to any wellness regimen.
Tips and Tricks for Best Results
Start with the recommended serving size and adjust as needed
Use consistently for best results; consistency is key
Store in a cool place out of sunlight to preserve quality
Experiment with different potencies to find what works best for you
Product Summary
R&R's Full Spectrum CBD Tincture is all about delivering the unadulterated goodness of CBD. It's a product that speaks to the purists and those who seek a customizable CBD experience.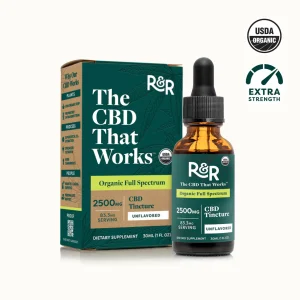 Final Thoughts and Recommendation
As I reflect on my experience with R&R Full Spectrum CBD Tincture, I'm struck by its honesty and purity. This is not a product that tries to be something it's not. It's CBD in its truest form, ready to meet you where you are. If you're looking to experience CBD without any frills or distractions, this is the tincture for you. It's a handshake with Mother Nature, firm and genuine.
Related posts
Subscribe
* You will receive the latest information, deals, and updates in the world of CBD!