Ah, the daily grind. It's all fun and games until your muscles start to protest, and you find yourself reaching for that old jar of grandma's mystery ointment. But wait, there's a new player in town, and it's R&R's CBD Pain Cream (Full Spectrum). As I uncap the sleek tube, I'm greeted with the promise of relief and relaxation. Let's rub some of this magic potion on and see if it's all it's cracked up to be, shall we?
R&R CBD Pain Cream (Full Spectrum)
Why Choose This Product
Why settle for ordinary when you can have extraordinary? R&R's CBD Pain Cream is not just a cream; it's a symphony of soothing ingredients designed to kiss your pain goodbye. With options ranging from 1000mg to 5000mg of CBD potency, this cream is like a personalized masseuse in a tube. It's anti-inflammatory, fast-absorbing, and as moisturizing as a summer rain. Let's dive into the details, shall we?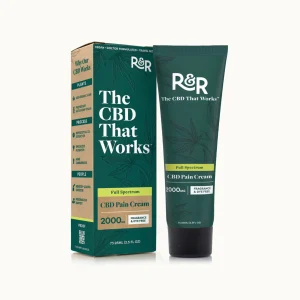 Features and Benefits
Product Quality
R&R's CBD Pain Cream (Full Spectrum) is a masterpiece of science and nature. Formulated with ingredients like Arnica Montana, MSM, Calendula Flower, and Jojoba, it's a blend of goodness that your skin will love. And with Full-Spectrum hemp extract, it's like a spa treatment for your aching muscles.
What It's Used For
Got pain? This cream's got you covered. Whether it's aching joints, strained muscles, or just the wear and tear of being fabulous, R&R's CBD Pain Cream is designed to get you moving again. It's like a warm hug for your body, without the awkward lingering.
Product Specifications
| Specification | Detail |
| --- | --- |
| Size | 2.5 FL Oz |
| Potency Options | 1000mg, 2000mg, 5000mg |
| Ingredients | Vegan, Free from artificial fragrances, menthol, eucalyptus, dyes |
| Price | $55.00 – $130.00 USD |
| Usage | Apply a quarter-sized amount, rub thoroughly |
Who This Product Is For
This cream is for the warriors, the go-getters, the "I've got this" folks who need a little TLC for their bodies. Whether you're lifting weights or lifting spirits, R&R's CBD Pain Cream (Full Spectrum) is your ally in the battle against discomfort.
Pros and Cons
Pros
Available in various potencies
Vegan and free from artificial additives
Contains beneficial ingredients like Arnica Montana and Jojoba
Suitable for daily use
Cons
Not suitable for open skin or cuts
Contains trace amounts of THC (less than 0.3%)
FAQs
Can I use this cream if I'm subject to testing?
It's advised not to use this product if you are subject to testing, as it contains trace amounts of THC.
How often can I use the cream?
You can use it as needed and consistently for best results.
Customer Reviews
"I've never felt so relieved! This cream is a game-changer." – Anonymous
"My muscles are singing praises to R&R's CBD Pain Cream. It's a must-have!" – Satisfied Customer
Overall Value
With its potent blend of quality ingredients and the promise of relief, R&R's CBD Pain Cream stands out as a valuable addition to your wellness routine. It's not just a product; it's a commitment to comfort and care.
Tips and Tricks for Best Results
Start with a quarter-sized amount
Rub in thoroughly for maximum absorption
Avoid contact with eyes and open cuts
Consult with your physician if you have concerns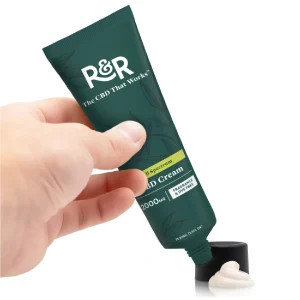 Product Summary
R&R's CBD Pain Cream is a soothing symphony for your body. With its quality ingredients, thoughtful formulation, and promise of relief, it's a product that delivers on its promises.
Final Thoughts and Recommendation
As I sit back, feeling the gentle embrace of R&R's CBD Pain Cream (Full Spectrum), I can't help but smile. This isn't just a cream; it's a ticket to comfort, a passport to relaxation. If you're in search of a product that cares as much about your well-being as you do, give this cream a try. You might just find yourself dancing through the day, pain-free and fabulous. Now, if you'll excuse me, I have a date with comfort, and I'm never looking back. 🌿💃
Related posts
Subscribe
* You will receive the latest information, deals, and updates in the world of CBD!