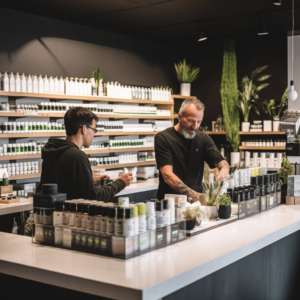 The Top CBD Stores in Wilmington, NC
Welcome to Wilmington, North Carolina! A city that's as vibrant as its beach town vibe and as captivating as its historic river district. But Wilmington isn't just known for its beautiful Cape Fear Coast beaches or its recognition as one of the Top 5 Beeriest Beach Towns in the United States. It's also a paradise for CBD enthusiasts! Yes, in this city, which is home to the largest television and movie studio in the U.S. outside California, you'll find some of the top CBD stores in the state. From CBD oil that's as soothing as the Wilmington surf to Delta-9 that's as exciting as its thriving arts scene, you'll find it all here. So, come on down and explore the CBD side of Wilmington, where history, beach life, and wellness intersect.
Cape Fear Clouds (4719 New Centre Dr, Wilmington, NC 28405): Cape Fear Clouds is a local favorite, specializing in Delta 8 THC and high-quality Kratom products. They're known for their top-shelf smoking devices, CBD, and Elf Bar Vapes. If you're looking for a place that's as cool as Wilmington's historic river district, this is it.
The Hemp Farmacy (1402 S College Rd, Wilmington, NC 28403): The Hemp Farmacy is a trusted resource for high-quality, hemp-derived CBD and Delta-THC products. Their knowledgeable staff is always ready to answer your questions. It's like the USS North Carolina battleship of CBD shops – strong, reliable, and a local landmark.
Carolina Hemp Company (6600 Gordon Rd, Wilmington, NC 28411): Carolina Hemp Company is dedicated to providing high-quality, efficacious, consumer-ready hemp-derived CBD and Delta-THC products. Their friendly staff is always ready to help, making it a perfect stop for both locals and visitors exploring the Ogden area of Wilmington.
Liv CBD (320 Castle St, Wilmington, NC 28401): Liv CBD is a certified CBD coach looking to educate their clients on the why and how to take their CBD. Their approach to CBD is as refreshing as a stroll along Wilmington's Riverwalk – enlightening, enjoyable, and always worth your time.
High Life Wilmington (201 N Green Meadows Dr, Wilmington, NC 28405):
Description: High Life Wilmington is a CBD store offering a variety of CBD products, including oils, edibles, and topicals. They focus on providing high-quality products and excellent customer service.

Popular Products: CBD oils, edibles, and topicals.
Is CBD Legal in Wilmington, NC?
As you soak up the sun on one of Wilmington's beautiful beaches, you might find yourself wondering, "Is CBD as legal in North Carolina as the waves are high?" Well, let me ride the wave of clarity for you – the answer is a resounding yes! North Carolina has embraced the sale and consumption of hemp-derived CBD products, including those irresistible CBD gummies and edibles. However, when it comes to Delta-8 and Delta-10, the legal landscape is a bit more complex than the Wilmington surf, so it's always wise to stay updated with the latest state regulations. But fear not, the CBD flower you find in Wilmington is as legal as the sand beneath your toes. So, whether you're a seasoned CBD user or just starting your CBD journey, Wilmington, NC is the perfect place to dive in and enjoy the CBD tide.
Related posts
Subscribe
* You will receive the latest information, deals, and updates in the world of CBD!