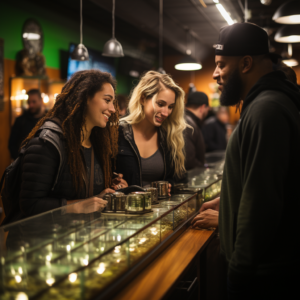 The Top CBD Stores in Durham, NC
Welcome to Durham, North Carolina! A city that's as scholarly as the Duke University it hosts and as innovative as the startups it fosters. But Durham isn't just known for its academic institutions or its title as the "Startup Capital of the South". It's also a paradise for CBD enthusiasts! Yes, in this city, which is a key vertex of the Research Triangle and known as the "City of Medicine", you'll find some of the top CBD stores in the state. From CBD oil that's as soothing as the Eno River to Delta-9 that's as stimulating as Durham's entrepreneurial scene, you'll find it all here. So, come on down and explore the CBD side of Durham, where education, innovation, and wellness intersect.
The Hemptender (2014 Angier Ave, Durham, NC 27703): The Hemptender is a local favorite, offering a wide selection of high-quality hemp products, including topicals, tinctures, edibles, concentrates, and smokable hemp flower. They work closely with hemp farmers in North Carolina, Oregon, and California to ensure that everything they sell is compliant and lab-tested. The Hemptender is your go-to place if you're looking for a safe, comfortable experience with a team that truly knows their hemp.
Carolina Hemp Hut – Durham (4600 Durham-Chapel Hill Blvd Suite 21, Durham, NC 27707): Located in the Oak Creek Village Shopping Center, Carolina Hemp Hut is a Latina-owned and Latino-operated store that offers a wide variety of hemp products. They are dedicated to customer safety and satisfaction, providing hemp product education and guidance. They have a large selection of hemp products, including gummies, flower, tinctures, and pet products.
Bull City Dispensary (3808 Guess Rd # D, Durham, NC 27705): Bull City Dispensary is another local favorite, offering a variety of CBD, Delta 8, and Hemp CBD products. They are known for their quality products and excellent customer service.
Cloud Vape Lounge (5410 NC-55 Ste S, Durham, NC 27713): This is the top destination for premium vape supplies in Durham and carries a great selection of CBD vape liquids from brands like Savage CBD. They offer vape oil liquids with low dosages of CBD as well as ones with as much as 1,000 mg.
TJ Smokes (4900 Nc Hwy 55 Ste 170 Durham, NC 27713): TJ Smokes specializes in simple and cheap CBD oil products, including CBD vape pens and e-liquids, CBD gummies, syrups, and other edibles, CBD dabs and crumbles, and CBD oil tinctures from brands like Lyft and Tiger CBD.
Durham Vape Shop+Lounge (4422 N Roxboro St Ste A, Durham, NC 27704): This vape shop offers a little something for everyone, including CBD vape oil, Kratom, smoke supplies, and even game systems. The shop is set up like a lounge, with a chic bar up front serving up 20 funky-flavored lines of e-juice, and a pool table in the back.
Is CBD Legal in Durham, NC?
As you navigate the innovative streets of Durham, you might find yourself wondering, "Is CBD as legal in North Carolina as the spirit of entrepreneurship is in this city?" Well, let me light the bulb of clarity for you – the answer is a resounding yes! North Carolina has embraced the sale and consumption of hemp-derived CBD products, including those irresistible CBD gummies and edibles. However, when it comes to Delta-8 and Delta-10, the legal landscape is a bit more complex than a startup business plan, so it's always wise to stay updated with the latest state regulations. But fear not, the CBD flower you find in Durham is as legal as the innovation that fills its streets. So, whether you're a seasoned CBD user or just starting your CBD journey, Durham, NC is the perfect place to innovate and grow on your path to wellness.
Related posts
Subscribe
* You will receive the latest information, deals, and updates in the world of CBD!