Alright, brother, listen up! I've got something that's gonna make you wanna rip your shirt off, Hulk Hogan style. No, it's not a new wrestling move; it's the Hulkamania Beast Mode THC Gummies in Peach Dynamo flavor. Let me tell you, these gummies are the real deal, Jack! They're like a leg drop to your taste buds and a body slam to your stress. So, whatcha gonna do when Hulkamania and these THC gummies run wild on you?
Hulkamania Beast Mode THC Gummies - Peach Dynamo
Why Choose This Product
If you're looking to get into the ring with relaxation and flavor, then these gummies are your tag team partner. They're not just a one-trick pony; they pack a punch with high-potency psychoactive effects and a peach flavor that's bursting at the seams. It's like Hulk Hogan himself is cheering you on as you tackle life's challenges.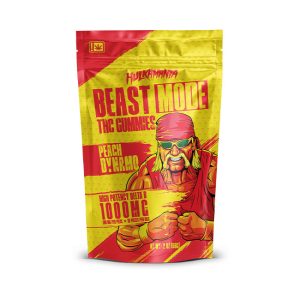 Features and Benefits
Product Quality
These gummies are made using cutting-edge CO2 extraction techniques, which is the industry gold standard. Each gummy undergoes rigorous third-party lab testing to ensure it's up to snuff. So, you're not just getting any gummy; you're getting a high-quality, Hulk-approved gummy.
What It's Used For
These aren't your grandma's gummies. They're packed with 100mg of pure, hemp-extracted Delta 8 THC, designed to send you on a cloud of tranquility and chill vibes. Whether you're looking to relax after a long day or just want to feel like you're floating in the ring, these gummies have got you covered.
Product Specifications
| Specification | Details |
| --- | --- |
| Serving Size | 1pcs (4.5g) |
| Delta-8 per gummy | Approx. 90mg |
| Delta-9 per gummy | Approx. 10mg |
| Calories | 16 |
| Total Fat | 0g |
| Sodium | 2mg |
| Total Carbohydrate | 4g |
| Total Sugars | 2g |
Who This Product Is For
If you're 21 and older, and you're looking to step into the ring with some serious relaxation, then these gummies are for you. But remember, this is not CBD; it's a hemp-derived product with psychoactive effects. So, consult your healthcare professional before diving in.
Pros and Cons
Pros
High-potency Delta 8 THC
Delicious peach flavor
Rigorous third-party lab testing
CO2 extraction for maximum purity
Cons
Not suitable for those under 21
May show up on drug tests
Not evaluated by the FDA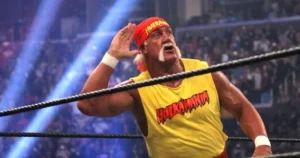 FAQs
Q: Is this CBD?
A: No, these are hemp-derived THC gummies, not CBD.
Q: Can I drive after taking these gummies?
A: Absolutely not, brother! These gummies may cause drowsiness, so don't even think about operating heavy machinery.
Customer Reviews
There are no customer reviews yet, so you could be the first to drop an elbow on that review section!
Overall Value
For $14.99, you're getting a powerhouse of flavor and relaxation. It's like having Hulk Hogan in your corner, but without the sweat and spandex.
Tips and Tricks for Best Results
Start with a half gummy if you're new to THC products
Store in a cool, dry place
Consult a healthcare professional before use
Product Summary
In the ring of THC gummies, Hulkamania Beast Mode THC Gummies – Peach Dynamo is the undisputed champion. With high-quality ingredients, rigorous testing, and a flavor that'll make you say, "That's incredible, dude!", these gummies are a must-try.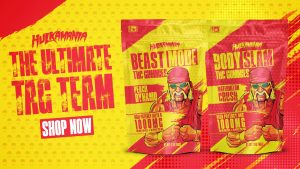 Final Thoughts and Recommendation
So, there you have it, folks. If you're looking to tag team with relaxation and flavor, then these Hulkamania Beast Mode THC Gummies are your go-to. They're the real American hero of THC gummies. So, whatcha gonna do, brother, when these gummies and their 1000mg of relaxation run wild on you?
Related posts
Subscribe
* You will receive the latest information, deals, and updates in the world of CBD!