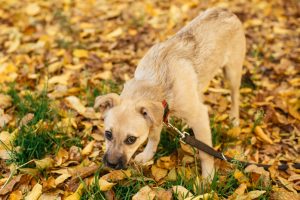 Got a stressed-out pup? Many pooches seem to be anxious about everything – loud sounds, car rides, being alone, and even normal daily happenings. This can lead to nonstop whining, pacing, shaking, accidents around the house, and destructive behaviors. As a dog parent, it's frustrating and heartbreaking to see your fur baby chronically on edge.
Could CBD oil offer anxiety relief for high-strung dogs without sedation side effects? Research says it just might!
What Science Says About CBD Easing Doggy Anxiety
CBD (short for cannabidiol) comes from hemp and cannabis plants. Unlike its cousin THC, CBD is non-psychoactive – so it won't make your pooch stoned! Instead, CBD interacts with receptors in the endocannabinoid system to regulate mood and bodily functions.
Several studies show promising results on CBD calming dog anxiety:
A 2020 study showed CBD reduced stress behaviors and restlessness in pups during car rides. Dogs were also more chill around unfamiliar people.
In 2019 research, CBD oil given for 2 weeks significantly decreased noise phobia in dogs scared of fireworks. Ruff day no more!
Colorado State University found separation anxiety improved in dogs taking CBD. Pups were less distressed when left home alone after CBD.
The research indicates CBD could be an effective, natural anti-anxiety treatment for easily spooked dogs. But always chat with your vet first before using it!
Picking a Top-Notch CBD Oil for Your Anxious Pup
With so many CBD products out there, how do you select a good one for your pooch? Here are tips:
Buy from a reputable company that lab tests. This ensures the CBD oil has the advertised CBD amounts and no nasty contaminants.
Go for organic. Organic CBD oils come from hemp grown without pesticides or chemicals.
Make sure it's formulated for pets, not people. Pet CBD oils have different formulations and dosing.
Consider potency. Anxiety requires high potency CBD oils, typically 15 mg/mL or higher.
Pick natural flavors since dogs hate the bitter taste of unflavored CBD.
Great pet CBD oil brands include Holistapet, LolaHemp, and Honest Paws with various potencies, flavors, and bottle sizes.
Dosing CBD Oil for Your Stressed-Out Dog
Always start with the lowest effective dose and increase slowly if needed. General dosing guidelines are:
1-5 mg CBD per 10 lbs of your dog's weight
Start at 1-2 mg per 10 lbs and watch for changes in anxiety for a week before gradually increasing.
For severe anxiety, go to the higher end of the dosage range. Monitor for side effects.
Work with your vet on the ideal dosage regimen. Your vet may also suggest additional anti-anxiety meds or training if CBD alone doesn't fully reduce symptoms.
Tips for Giving Fido CBD Oil
Follow these tips to properly administer CBD oil and ensure accurate dosing:
Give CBD at the same time(s) every day for consistency.
Shake the bottle first to distribute CBD evenly.
Use the dropper to measure doses precisely.
Give CBD oils directly into your dog's mouth or with treats, not food/water.
Watch your dog after dosing to check for reduced anxiety or side effects.
If your pooch won't take the oil, mix into peanut butter, cream cheese, or broth.
With patience and steady CBD oil use, your stressed-out pup may finally relax. But always consult your vet first for guidance on safe CBD use. Now go chill out your fur baby!
References
[1] Lokeshwar, Vinayak, et al. "Attenuation of rodent neuropathic and postoperative pain by a novel cannabinoid." Anesthesiology, U.S. National Library of Medicine, 2020, https://www.ncbi.nlm.nih.gov/pmc/articles/PMC7366037/.
[3] Vaughn, David, et al. "Effects of Cannabidiol Oil on Canine Idiopathic Epilepsy." Frontiers in Veterinary Science, Frontiers Media S.A., 14 Aug. 2020, https://www.frontiersin.org/articles/10.3389/fvets.2020.00508/full#B74.
Related posts
Subscribe
* You will receive the latest information, deals, and updates in the world of CBD!