Imagine a cool breeze on a hot summer day, a refreshing splash of water on your face, or the invigorating scent of fresh mint leaves. That's what it feels like to open a bottle of R&R Fresh Mint THC-Free CBD Tincture. It's a sensory experience that promises purity, freshness, and a touch of nature's best. If you've enjoyed the R&R Fresh Mint CBD Tincture, you'll find this THC-free version equally refreshing.
R&R Fresh Mint THC-Free CBD Tincture
About R&R
One of the delightful perks of shopping with R&R is their free shipping offer on U.S. orders over $60. It's a small gesture that speaks volumes about their commitment to customer satisfaction. Whether you're a first-time buyer or a loyal customer, this offer adds a touch of convenience to your CBD shopping experience. You can learn more about their shipping policy here.
Why Choose This Product
The R&R Fresh Mint THC-Free CBD Tincture is a perfect introduction for CBD newbies or those who prefer a THC-free experience. It's a blend of quality CBD with a hint of organic mint flavoring, offering relief from symptoms related to pain, stress, and sleeplessness. If you appreciated the full-spectrum experience of the R&R Full Spectrum CBD Tincture, this THC-free option provides a different yet equally satisfying experience.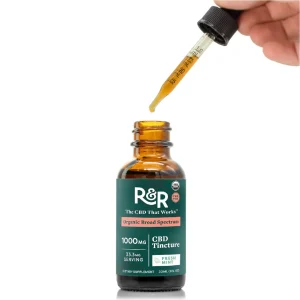 Features and Benefits
Product Quality
This tincture is truly Broad-Spectrum, meaning it's not just about CBD. It includes a variety of minor cannabinoids, terpenes, flavonoids, and antioxidants, all working together to maximize efficacy. It's a symphony of nature's goodness in a bottle.
What It's Used For
Best for sleep, pain, and stress, this tincture is a versatile solution that can be tailored to your specific needs. It's like having a wellness toolkit in liquid form, ready to address various challenges with precision.
Product Specifications
| Specification | Detail |
| --- | --- |
| Size | 1 FL Oz |
| Potency | 1000mg |
| Ingredients | Organic Broad-Spectrum Hemp Extract, Organic MCT Oil From Coconut, Organic Natural Mint Flavoring |
| Price | $55.00 USD |
| Usage | 1-2 servings (1-2 mL) under tongue, hold 60 seconds, then swallow |
Who This Product Is For
The R&R Fresh Mint THC-Free CBD Tincture is for those who appreciate the natural taste of hemp with a refreshing twist. Whether you're new to CBD or prefer a THC-free option, this tincture offers a potency that matches your journey.
Pros and Cons
Pros
Refreshing mint flavor
THC-free for those who prefer to avoid THC
60-Day Money-Back Guarantee
Suitable for CBD newbies
Cons
Strong hemp flavor may not be suitable for everyone
Limited potency options
FAQs
Is this product completely THC-free?
Yes, this product contains non-detectable levels of THC according to HPLC analysis by third-party labs.
Customer Reviews
"The mint flavor is a game-changer. It makes taking CBD a pleasant experience." – Emily S.
"I was looking for a THC-free option, and this tincture delivered. Highly recommended!" – James M.
"A perfect introduction to CBD. The mint flavor is subtle and refreshing." – Karen L.
Overall Value
The R&R Fresh Mint THC-Free CBD Tincture offers a unique blend of quality CBD with a refreshing mint twist. It's a versatile and valuable addition to any wellness regimen, especially for those seeking a THC-free option.
Tips and Tricks for Best Results
Start with the recommended serving size and adjust as needed
Use consistently for best results
Store in a cool place out of sunlight to preserve quality
Product Summary
R&R's Fresh Mint THC-Free CBD Tincture is a celebration of purity and freshness. It's a product that speaks to those who seek a refreshing and THC-free CBD experience.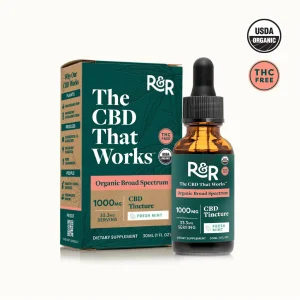 Final Thoughts and Recommendation
As I reflect on my experience with R&R Fresh Mint THC-Free CBD Tincture, I'm reminded of the simple joys of nature. The refreshing mint flavor adds a touch of elegance to the robust CBD profile. If you're looking to experience CBD with a refreshing twist, this is the tincture for you. It's like a minty handshake with Mother Nature, cool and sincere.
Related posts
Subscribe
* You will receive the latest information, deals, and updates in the world of CBD!