As I pop open the jar of R&R THC-Free CBD Gummies, I'm greeted with a colorful array of chewable delights. These aren't your average gummy bears; they're infused with the goodness of CBD, ready to bring wellness to your doorstep without the THC. Let's explore what makes these gummies a fan-favorite.
About R&R
R&R isn't just another name in the CBD industry; they're a brand that stands for quality and innovation. With a focus on delivering THC-Free products, they've crafted a line of gummies that cater to those who want the benefits of CBD without any THC. Their commitment to quality is evident in their use of USDA-certified organic hemp extract and their dedication to rigorous lab testing. They're not just selling products; they're selling a THC-Free experience that's backed by science and passion. You can explore their dedication to quality here, learn about their unique hemp here, and dive into their FAQs here.
Why Choose This Product
Why settle for ordinary when you can have extraordinary? R&R THC-Free CBD Gummies are a delicious fan-favorite, designed to relieve stress, pain, and sleep issues without any THC. With a convenient and tasty way to enjoy CBD, these gummies are a perfect introduction to the benefits of THC-Free CBD.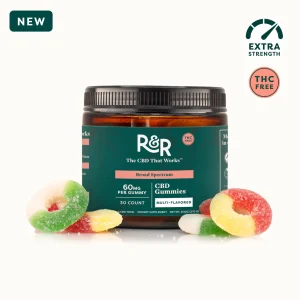 Features and Benefits
Product Quality
These gummies are infused (never sprayed) with 30mg or 60mg of USDA-certified organic hemp extract, along with 5.1mg of minor cannabinoids like CBC, CBD-A, CBG, CBT, CBE, CBDv, CBN. It's a broad-spectrum experience that lets you benefit from the entourage effect without any THC.
What It's Used For
Whether you're looking to ease anxiety or find relief from chronic pain, these gummies are designed to make your life better. It's wellness in a chewable form, and it's as tasty as it sounds.
Product Specifications
| Specification | Detail |
| --- | --- |
| Size | 30 Count |
| Potency | 30mg or 60mg |
| Ingredients | Organic Broad-Spectrum Hemp Extract, Tapioca Syrup, Purified Water, Cane Sugar, Pectin, Lemon Juice Concentrate, Natural Flavors (Strawberry, Peach, Apple), Citric Acid, Tapioca Starch |
| Price | $55.00 USD for 30mg, $80.00 USD for 60mg |
| Usage | Take 1-2 gummies per day, store in a cool, dry place |
Who This Product Is For
These gummies are for the wellness enthusiasts, the CBD curious, and anyone looking to add a touch of natural relief to their daily routine without THC. It's a treat that's suitable for both CBD newbies and veterans.
Pros and Cons
Pros
Delicious flavors (Strawberry, Peach, Apple)
Broad-Spectrum benefits including minor cannabinoids
Convenient and easy to use
Suitable for daily consumption
Cons
May not be suitable for those with specific dietary restrictions
FAQs
Can I take more than the recommended dose?
While generally safe, excessive hemp extract may cause hyperactivity or neurotic behavior. Consult with your physician if you have concerns.
Is it suitable for vegans?
Yes, these gummies are vegan-friendly.
Customer Reviews
"These gummies have improved my daily routine. Love the taste!" – Satisfied Customer
"A convenient way to enjoy CBD without THC. Highly recommend!" – Happy Wellness Seeker
Overall Value
R&R THC-Free CBD Gummies offer a delightful blend of taste and therapeutic benefits. With quality ingredients and thoughtful formulation, they're a valuable addition to your wellness journey without the THC.
Tips and Tricks for Best Results
Start with the recommended serving size
Observe for any changes and adjust the serving size if needed
Consult with your physician if you have concerns
Product Summary
R&R's THC-Free CBD Gummies are a delightful treat that promises to please both your taste buds and your wellness needs. With their thoughtful formulation and delicious flavors, they're a chew that's worth savoring without the THC.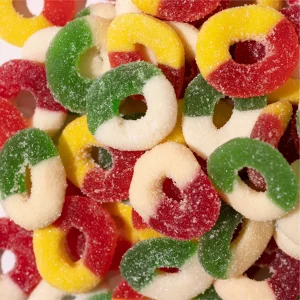 Final Thoughts and Recommendation
As I savor the last chew of R&R's THC-Free CBD Gummies, I can't help but feel a sense of satisfaction. These gummies are more than just a treat; they're a wellness companion, a daily dose of goodness without the THC. If you're looking to enjoy the benefits of CBD without the THC, give these gummies a try. You might just find yourself dancing with joy, and not a THC molecule in sight. Now, if you'll excuse me, I have a date with wellness. Cheers to good health! 🌿💃
Related posts
Subscribe
* You will receive the latest information, deals, and updates in the world of CBD!