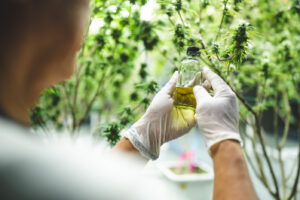 Published on July 17, 2023
SciSparc, a pharmaceutical company based in Israel, recently announced plans to begin clinical trials of a new autism treatment. The treatment will utilize cannabidiol (CBD) and target symptoms like irritability and self-injury in children.
The Phase II trial will evaluate the efficacy and safety of SciSparc's proprietary CBD combination therapy. Known as SCI-210, the drug candidate was developed to reduce autism symptoms without the side effects of current prescription medications. The double-blind, placebo-controlled study will include up to 60 participants ages 4-12 years old.
SciSparc CEO Amitai Weissman said this represents a major milestone for the company's pipeline. He said that successfully developing cannabinoid-based medicines for autism could significantly impact quality of life. The global autism therapy market is also expected to grow substantially in coming years.
The CBD Blaze Take
This promising trial is exciting news for the potential of CBD as a treatment for autism. The diversity of cannabis compounds continues providing medical hope across so many conditions. However, research is still in the early stages. We will have to await clinical results to know if CBD can truly deliver benefits for autistic children while remaining safe.
I admire SciSparc's commitment to exploring alternative therapies. Prescription drugs used currently, like risperidone, often carry concerning side effects. A gentler CBD-based option could be life-changing for families affected by autism. Here's hoping the clinical trials paint a positive picture.
For more details on SciSparc's autism therapy development, check out the original article at https://www.globenewswire.com/news-release/2023/07/14/2704940/0/en/SciSparc-to-Commence-Its-Clinical-Trial-with-SCI-210-in-Children-with-Autism-Spectrum-Disorder.html.
Related posts
Subscribe
* You will receive the latest information, deals, and updates in the world of CBD!