Published on July 20, 2023
Hey there, folks! Let's dive into some recent happenings in the world of hemp-derived CBD. A congressional committee has decided it's high time (pun intended) to address the Food and Drug Administration's (FDA) reluctance to set up rules for the marketing of hemp-derived CBD products. They've scheduled a hearing for this very purpose next week.
The Issue at Hand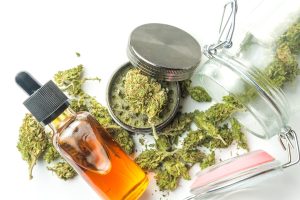 Our story begins with the FDA's refusal to enact regulations for the marketing of hemp-derived CBD products. This has raised eyebrows and concerns among lawmakers, leading to a hearing scheduled by the House Oversight and Accountability Subcommittee on Health Care and Financial Services. The hearing, aptly titled "Hemp in the Modern World: The Years long Wait for FDA Action," is set for July 27.
Chairwoman Lisa McClain (R-MI) expressed her concerns, stating that the FDA has been dragging its feet for too long when it comes to ensuring the safety of legalized hemp-derived products. She warned that without these regulations, dangerous products could sneak onto the shelves, while safe and credible CBD products could be barred from the market.
Lawmakers Take Action
In response to the FDA's inaction, a group of bipartisan and bicameral lawmakers have reintroduced a bill to fill this regulatory gap. This includes Sens. Ron Wyden (D-OR), Rand Paul (R-KY), and Jeff Merkley (D-OR), along with Rep. Earl Blumenauer (D-OR). Their proposed legislation aims to remove the regulatory barriers that the FDA claims are preventing it from allowing CBD sales in the food supply or as dietary supplements.
The Hemp Access and Consumer Safety Act, which had been introduced in the previous Congress but didn't advance, would exempt hemp, hemp-derived cannabidiol, or any other ingredient derived from hemp from certain federal restrictions. This would allow officials to enact labeling and packaging rules.
The Voices of Lawmakers
Sen. Wyden pointed out that despite being legally grown in the United States for nearly five years, hemp and hemp-derived CBD are still in a regulatory gray zone. This puts consumers at risk and holds producers back. He emphasized that the FDA needs Congress to act, and they've got the bill to ensure equal and safe access to hemp-derived CBD.
Sen. Merkley chimed in, stating that hemp farmers need updated CBD regulations to thrive. Sen. Paul added that CBD products and businesses have earned their recognition in the marketplace, but the FDA hasn't treated them like any other food additive or dietary supplement. The Hemp Access and Consumer Safety Act, he said, directs the FDA to regulate hemp products properly and provides a huge relief to hemp farmers, processors, and merchants.
The Hearing and Beyond
As lawmakers gear up to formally address the FDA's inaction at the subcommittee hearing, various individuals are set to testify. This includes Jonathan Miller, general counsel to the U.S. Hemp Roundtable, who expressed his honor to serve as a witness for this historic hearing. He aims to shed light on the urgent need for clear regulations that ensure consumer safety and promote the growth of the hemp industry.
The hemp industry took a major hit in 2022, and many stakeholders blame the FDA's refusal to issue regulations for CBD products. But with the upcoming hearing and the reintroduction of the Hemp Access and Consumer Safety Act, there's hope that the tide will turn for the better.
The CBD Blaze Take
It's about time Congress stepped up to hold the FDA accountable and inject some sensibility into the CBD regulation stalemate. The foot-dragging has left both consumers and businesses in limbo for far too long. Responsible companies just want clear, fair rules to follow – not threats of enforcement crackdowns.
I understand the FDA is in a difficult position regarding claims. But right now, the fuzzy legality means shady CBD vendors can fly under the radar while ethical sellers are stuck in purgatory. Leadership is needed to finally clarify CBD's status and enact regulations that protect consumers while also allowing the market to thrive.
Hopefully this Congressional push will get the wheels turning. The FDA must work collaboratively with the industry, not against it. As more states legalize cannabis, federal alignment on CBD is critical. Let's get it done.
For more details on the pressure mounting on the FDA regarding CBD regulation, check out the original Marijuana Moment article at https://www.marijuanamoment.net/congressional-committee-schedules-hearing-to-press-fda-on-lack-of-cbd-regulations-next-week-as-bipartisan-lawmakers-file-bills-to-address-the-issue/.
Related posts
Subscribe
* You will receive the latest information, deals, and updates in the world of CBD!