Ah, the sweet anticipation of a new package! As I eagerly unwrapped the parcel, I was met with the delightful sight of NuLeaf Naturals CBD Gummies. Now, I've tried my fair share of wellness products, but these gummies? They promised a tantalizing blend of flavor and wellness. As I popped one into my mouth, the thought crossed my mind: "Could this be the ultimate relaxation treat?" Let's embark on this flavorful journey and find out.
NuLeaf Naturals CBD Gummies
Quality of ingredients - 99%
Why Opt for These Gummies?
Why, of all the choices out there, did I gravitate towards NuLeaf Naturals CBD Gummies? Because they're making waves in the wellness world! These aren't just your run-of-the-mill candies; they're a passport to a realm of relaxation and holistic health. With their organic ingredients, precise dosing, and a plethora of positive feedback, they're a standout. Plus, who can resist a treat that's both scrumptious and therapeutic?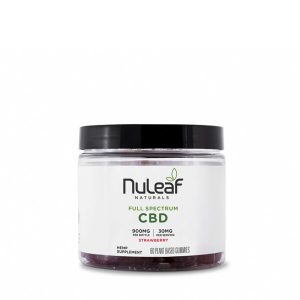 Features and Benefits
A Symphony of Flavors
These gummies come in four delectable flavors: Strawberry, Orange, Lemon, and Blueberry. It's not just about the CBD goodness; it's a full sensory experience. Each flavor bursts forth, making your daily CBD intake a moment to savor.
Precision in Every Bite
Each NuLeaf Naturals CBD Gummy is meticulously dosed at 15mg of full spectrum CBD. No guesswork, just consistent, reliable goodness in every bite.
Quality You Can Trust
These gummies aren't just whipped up in a kitchen; they're crafted with care and backed by rigorous lab tests. When you're munching on NuLeaf Naturals CBD Gummies, you're indulging in pure, top-notch quality.
Wellness, One Gummy at a Time
CBD's potential is vast, from reducing anxiety to improving sleep. These gummies are like a daily wellness retreat for your body and mind.
Product Quality
When it comes to quality, NuLeaf Naturals doesn't cut corners. Their CBD Gummies are made with the finest organic ingredients, ensuring that you're not ingesting any harmful chemicals or pesticides. Nature, in its purest form, offers potent and effective solutions, and these capture that essence perfectly.
What's It Good For?
Unwind and Relax
Feeling the weight of the world on your shoulders? NuLeaf Naturals CBD Gummies are here to help you find your zen, reducing anxiety and promoting relaxation.
Dreamland Awaits
If sleep eludes you, these gummies might just be your ticket to dreamland. With their calming effects, you can drift off and wake up rejuvenated.
Natural Pain Relief
Inflammation, be gone! These gummies harness CBD's natural anti-inflammatory properties, offering relief without the side effects of traditional meds.
Boost Your Well-Being
It's not just about physical health; it's about holistic well-being. And with NuLeaf Naturals CBD Gummies, you're on the right path.
Product Specifications
| Specification | Detail |
| --- | --- |
| CBD Dosage | 15mg per gummy |
| Flavors | Strawberry, Orange, Lemon, Blueberry |
| Ingredients | Organic cane sugar, organic tapioca syrup, organic flavors |
| Lab Testing | Rigorous and thorough for purity |
| Quantity | 30 gummies, perfect for a month of daily relaxation |
Who's It For?
Anyone and everyone! Whether you're a busy professional seeking a moment of calm, a sleep-deprived parent in need of rest, or just someone curious about the CBD world, these gummies are your perfect companion.
Pros and Cons
Pros
A delightful, convenient way to get your CBD fix.
Consistent dosing for a reliable experience.
Quality assurance with rigorous testing.
Organic ingredients for a pure experience.
Perfect for relaxation, sleep improvement, and pain relief.
A holistic approach to overall well-being.
Cons
Individual results may vary, as everyone's unique.
Consultation recommended for those with specific medical conditions.
A tad pricier, but remember, quality comes at a price.
FAQs
How many should I have?
Start with two NuLeaf Naturals CBD Gummies daily and adjust based on your needs.
Are they vegan-friendly?
They've got organic cane sugar, so not entirely vegan.
Will I start floating on clouds?
Nope, they're all about relaxation, not elevation.
Customer Reviews
The verdict from the masses is overwhelmingly positive! With a 4.9-star rating, customers are singing praises about better sleep, reduced anxiety, and the sheer deliciousness. But don't just rely on my words; the glowing reviews are testament enough.
Overall Value
With NuLeaf Naturals CBD Gummies, you're investing in a product that's not only delicious but also packed with wellness benefits. They offer an unparalleled value that prioritizes your well-being and supports a natural, holistic approach to health.
Tips and Tricks for Best Results
Start slow, savor each gummy, and find your ideal dosage.
Make them a daily ritual for best results.
Keep them in a cool spot to ensure they stay fresh and potent.
Always consult with a healthcare professional if in doubt.
Product Summary
NuLeaf Naturals CBD Gummies are more than just a treat; they're a holistic wellness experience. With their precise dosing, top-tier ingredients, and rigorous testing, they stand out in the crowded CBD market.

Here's the bottom line: If you're seeking a natural, effective, and tasty way to relax, improve sleep, and elevate your overall well-being, these gummies are the way to go. Backed by science, customer testimonials, and my own delightful experience, they're a must-try. So, why wait? Dive into the world of NuLeaf Naturals CBD Gummies and embark on a journey of relaxation and wellness. Cheers to a healthier, happier you! 🍓🍊🍋🫐
Related posts
Subscribe
* You will receive the latest information, deals, and updates in the world of CBD!