Upon receiving the NuLeaf Naturals' CBG Capsules, I was immediately struck by the brand's consistent commitment to quality. The packaging, as always, exuded a sense of premium care. Holding the bottle in my hand, I felt a familiar thrill, reminiscent of my previous experiences with their products. But this was different – CBG, a cannabinoid I'd heard so much about but had yet to try. The promise of a new wellness journey beckoned, and I was eager to embark on it.
NuLeaf Naturals Full Spectrum CBG Capsules
Quality of ingredients - 98%

Features & Benefits: Beyond the Ordinary
Full Spectrum: These capsules are not just about CBG. They encompass a full spectrum of naturally occurring cannabinoids and terpenes, ensuring a holistic wellness experience.

Potency: Each softgel packs a punch with 15mg of CBG. It's a precise dose, ensuring consistency in your wellness routine.

Convenience: The softgel format is perfect for those on the go. No need to measure out drops; just pop a capsule and you're good to go.
Product Quality: The NuLeaf Naturals Promise
NuLeaf Naturals continues to impress with their unwavering dedication to quality. Their proprietary genetics ensure a product that's rich in CBG, complemented by other beneficial cannabinoids. The organic hemp, grown in the USA, undergoes advanced extraction methods, ensuring a product free from harsh solvents. The result? A capsule that promises potency, purity, and consistency.
Product Specifications: At a Glance
| Specification | Detail |
| --- | --- |
| Spectrum | Full |
| Potency | 15mg/softgel |
| Recommended Dosage | 2 softgel capsules (30mg) daily or as needed |
| Cannabinoids Included | CBG, CBD, CBC, CBN, and more |
| Extraction Method | Advanced (Solvent-free) |
| Origin | USA |
Pros & Cons: Weighing the Benefits
Pros:
Convenient dosage: Softgel format ensures consistent dosing.
Full spectrum benefits: A holistic approach to wellness.
Organic cultivation: Pure, without any chemical interference.
Advanced extraction methods: Purity at its best.
Cons:
Price: Premium quality might come with a premium price tag.
FAQs: Clarifying the Mysteries
Q: How does CBG differ from CBD?

A: While both are cannabinoids, CBG offers its unique set of benefits, complementing the effects of CBD.

Q: Can I combine these capsules with other supplements?

A: Always consult with a healthcare professional when mixing supplements.
Voices from the Community: What Users Are Saying
Al S.: "Good vibes. Calm and relaxed feeling."
Linda H.: "My spouse and I think the CBG is helping us to stay more focused."
Penelope G.: "I can finally sleep without pain!!!!"
Courtney S.: "CBG capsules have been a game changer for my mother's back and nerve pain."
Overall Value: A Worthy Investment?
Given the meticulous crafting, organic ingredients, and the promise of a unique cannabinoid experience, these capsules are worth considering for those looking to expand their wellness routine.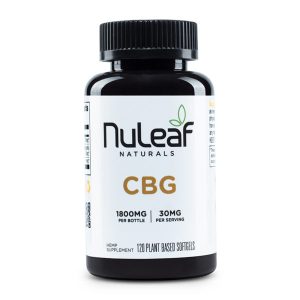 Tips and Tricks: Maximizing Your Experience
Consistency is key: Establish a routine for best results.
Storage: Keep the bottle in a cool, dark place to maintain its potency.
Final Thoughts: A New Chapter in Wellness
After a month of integrating NuLeaf Naturals' CBG Capsules into my routine, the results were palpable. The calmness, clarity, and overall sense of well-being were undeniable. It felt like discovering a new chapter in my wellness journey, one filled with promise and potential. For those curious about the benefits of CBG or looking for a convenient way to incorporate it, these capsules might just be the answer.
Related posts
Subscribe
* You will receive the latest information, deals, and updates in the world of CBD!