Ah, the R&R Full Spectrum CBD Softgels! These softgels are like a symphony of wellness, each note carefully crafted to provide relief from sleeplessness, pain, and stress. If you're a fan of CBD but not the taste of hemp, these softgels are your ticket to a tasteless and potent CBD experience. Imagine popping one of these before bedtime and drifting into a peaceful slumber, or taking one to ease the stress of a hectic day. Convenience and quality have never been so harmoniously blended.
R&R Full Spectrum CBD Softgels
About R&R
R&R's 60-Day Money-Back Guarantee is more than just a promise; it's a testament to their belief in the quality of their products. It's like having a safety net as you walk the tightrope of wellness, knowing that if you stumble, R&R is there to catch you. This guarantee reflects the company's commitment to customer satisfaction and their confidence in the effectiveness of their products. You can learn more about their guarantee here.
Why Choose This Product
The R&R Full Spectrum CBD Softgels are a one-stop solution for those seeking a convenient and potent CBD intake. They come in various potencies, offering a tailored experience for both CBD newbies and veterans. It's like having a personalized wellness coach in a bottle, guiding you towards better sleep, pain relief, and stress management. The softgels are designed to be tasteless, making them a perfect choice for those who prefer not to taste the hemp. They're like a silent partner in your wellness journey, always there but never intrusive.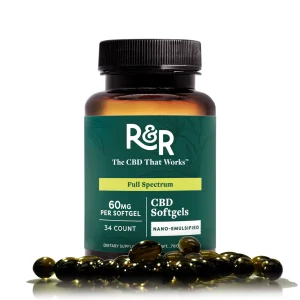 Features and Benefits
Product Quality
These softgels are crafted with Full-Spectrum, phytonutrient-rich hemp extract, providing a complete entourage effect. It's like a wellness party where terpenes, flavonoids, and antioxidants are all invited, working together to amplify benefits. The quality of the hemp extract ensures that you're getting a product that's pure, potent, and ready to make a positive impact on your well-being.
What It's Used For
Whether you're battling sleepless nights, chronic pain, or daily stress, these softgels are your trusty companions. They're designed to provide longer-lasting, time-release effects, making them ideal for a good night's rest or sustained relief throughout the day. Think of them as your personal wellness guardians, always ready to step in when you need support.
Product Specifications
| Specification | Detail |
| --- | --- |
| Size | 34 Count |
| Potency Options | 30mg, 60mg, 90mg |
| Ingredients | Organic Full-Spectrum Hemp Extract, Organic MCT Oil From Coconut, Gelatin, Purified Water, Vegetable Glycerin |
| Price | $55.00 – $100.00 USD |
| Usage | 1-2 gels daily, 30 minutes before eating |
Who This Product Is For
The R&R Full Spectrum CBD Softgels are for those who seek a convenient and tasteless CBD experience. Whether you're just starting with CBD or looking for a high-potency option, these softgels offer a range that suits your needs. They're like a wellness toolkit, ready to be customized to your unique requirements.
Pros and Cons
Pros
Convenient and tasteless
Available in various potencies
60-Day Money-Back Guarantee
Suitable for different CBD needs
Time-release effects for sustained relief
Cons
Contains gelatin, not suitable for vegetarians
Limited flavor options
May not be suitable for those looking for immediate effects
FAQs
Are these softgels suitable for vegetarians?
No, these softgels contain gelatin and are not suitable for vegetarians. It's an important consideration for those following a vegetarian lifestyle.
How do these softgels work for sleep?
The time-release effects of these softgels make them ideal for promoting a good night's sleep. They gradually release CBD into your system, helping you drift into a peaceful slumber and stay asleep throughout the night.
Customer Reviews
"I love the convenience of these softgels. They've become a part of my daily routine, and I can't imagine life without them." – Sophia T.
"The 60mg option is perfect for my needs. I've noticed significant improvement in my sleep, and I wake up feeling refreshed." – Michael R.
"These softgels are a lifesaver for my chronic pain. The time-release effect ensures that I have sustained relief throughout the day." – Nancy W.
Overall Value
The R&R Full Spectrum CBD Softgels offer a blend of convenience, quality, and potency. They're a versatile addition to your wellness routine, providing targeted relief for various symptoms. The various potency options and the 60-Day Money-Back Guarantee add to the overall value, making them a wise investment in your well-being.
Tips and Tricks for Best Results
Start with the recommended dosage and adjust as needed
Consistency is key for best results
Store in a cool place out of direct sunlight
Consider your specific needs when choosing the potency
Product Summary
R&R's Full Spectrum CBD Softgels are a celebration of convenience and quality. They offer a tasteless and potent CBD experience, tailored to your specific needs. With options for different potencies and the assurance of quality hemp extract, these softgels are a valuable addition to anyone's wellness routine.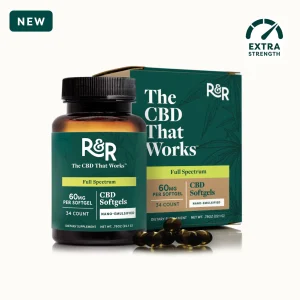 Final Thoughts and Recommendation
As I bid adieu to my R&R Full Spectrum CBD Softgels experience, I'm left with a sense of satisfaction and ease. These softgels are like a gentle hug for your wellness needs, always there when you need them, without any fuss or frills. If you're seeking a convenient and potent CBD option, these softgels might just be your new best friend. Pop one and let the wellness journey begin! They're like a wellness concierge, always at your service, guiding you towards a happier, healthier you.
Related posts
Subscribe
* You will receive the latest information, deals, and updates in the world of CBD!