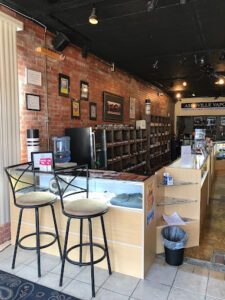 The Top CBD Stores in Hendersonville, NC
Hendersonville, NC, is a city that knows how to blend the old with the new. Known for its historic downtown and vibrant arts scene, it's also a city that's embraced the wellness benefits of CBD. With a number of top-notch CBD stores, Hendersonville is a great place to explore the world of CBD. Let's dive into some of the best places to buy CBD products in Hendersonville.
Asheville Vapor (423 N Church St, Hendersonville, NC 28792):
Asheville Vapor is a well-known tobacco shop in Hendersonville, but it's not just about tobacco. They boast the largest selection of CBD/D8 products and disposables in the area. Whether you're a vaping enthusiast or a CBD connoisseur, Asheville Vapor has got you covered. Their friendly staff is always ready to help you find the perfect product to suit your needs.
Franny's Farmacy (128 Henderson Crossing Plaza, Hendersonville, NC 28792):
Franny's Farmacy is more than just a wellness center; it's a testament to the pioneering spirit of its founder, Fran Tacy, the first female hemp farmer in North Carolina. This store offers a premium line of Hemp and CBD products, all sourced from locally grown hemp. From tinctures and topicals to edibles and pet products, Franny's Farmacy is a one-stop-shop for all things CBD.
Harvested Dreams (1705 Asheville Hwy, Hendersonville, NC 28791):
Harvested Dreams is a CBD store that specializes in CBD, Delta 8, edibles, flower, and other cannabis products. This woman-owned small business is known for its organically grown products from the blue ridge mountains. Their mission is to deliver high-quality cannabis products at an affordable price, and they certainly live up to it.
Is CBD Legal in Hendersonville, NC?
In Hendersonville, as in the rest of North Carolina, hemp-derived CBD products are legal as long as they contain less than 0.3% THC. This means you can legally purchase CBD products in the city without a prescription. However, it's always a good idea to check the latest laws and regulations regarding CBD in your area, as they can change.
Related posts
Subscribe
* You will receive the latest information, deals, and updates in the world of CBD!