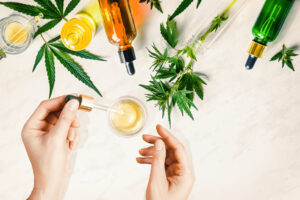 The Top CBD Stores in Chapel Hill, NC
Welcome to Chapel Hill, North Carolina! A city that's as scholarly as the University of North Carolina it hosts and as vibrant as the Franklin Street that runs through its heart. But Chapel Hill isn't just known for its academic institutions or its lively downtown. It's also a paradise for CBD enthusiasts! Yes, in this city, which was originally named after the hill that once served as home to New Hope Chapel, you'll find some of the top CBD stores in the state. From CBD oil that's as soothing as the local music scene to Delta-9 that's as stimulating as Chapel Hill's intellectual atmosphere, you'll find it all here. So, come on down and explore the CBD side of Chapel Hill, where education, culture, and wellness intersect.
Cannabliss (102 S. Merritt Mill Rd, Chapel Hill, NC 27516): Cannabliss is a CBD store that carries only the highest quality organic hemp and CBD products. They aim to create a peaceful buying experience for their customers and offer free delivery in and around Raleigh, North Carolina. They also host educational events online and in-person.
The Hemp Store (115 E. Franklin St Chapel Hill, NC 27514): The Hemp Store is a local favorite, offering clean U.S grown hemp and a variety of fresh products. They offer a range of products from CBD oils, gummies, lotions, bath bombs, vape pens, creams, tinctures, honey, hemp flower, pre-rolls, and salves. The Hemp Store is a testament to Chapel Hill's commitment to natural wellness and quality.
Carolina Hemp Hut (137 Mayo St, Hillsborough, NC 27278): Carolina Hemp Hut is a leading source of CBD, Delta 8 THC, Delta 9 THC, CBG, and other hemp wellness products in the region. They offer a wide range of products and are dedicated to helping a broader audience in Orange County, including Chapel Hill.
The House of Cloudz (601 W Rosemary St Unit 101, Chapel Hill, NC 27516): The House of Cloudz offers an extensive selection of vapes, glass pipes, CBD products, and more. They carry everything and anything CBD, hemp, or delta-8. Their staff is highly knowledgeable about all of their products, and they can guide you through their extensive inventory.
Is CBD Legal in Chapel Hill, NC?
As you immerse yourself in the scholarly atmosphere of Chapel Hill, you might find yourself wondering, "Is CBD as legal in North Carolina as the pursuit of knowledge is in this city?" Well, let me turn the pages of clarity for you – the answer is a resounding yes! North Carolina has embraced the sale and consumption of hemp-derived CBD products, including those irresistible CBD gummies and edibles. However, when it comes to Delta-8 and Delta-10, the legal landscape is a bit more complex than a university syllabus, so it's always wise to stay updated with the latest state regulations. But fear not, the CBD flower you find in Chapel Hill is as legal as the wisdom that fills its streets. So, whether you're a seasoned CBD user or just starting your CBD journey, Chapel Hill, NC is the perfect place to learn and grow on your path to wellness.
Related posts
Subscribe
* You will receive the latest information, deals, and updates in the world of CBD!